The critical ingredient is getting off your butt and doing something. It's as simple as that. A lot of people have ideas, but there are few who decide to do something about them now. Not tomorrow. Not next week. But today. The true entrepreneur is a doer, not a dreamer.

Nolan Bushnell, Entrepreneur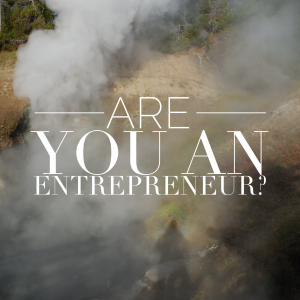 "Are You an Entrepreneur?" is the title of a workshop I've been teaching for the NJ women's center for entrepreneurship for the past 11 years.  I love teaching this 3-hour program because it keeps me in touch with my own entrepreneurial journey. According to a 2014 Business News Daily article, half of working adults in the United States either currently own or want to own their own businesses, based on a study from the University of Phoenix School of Business. Among those who don't currently own a business, nearly 40 percent hope to do so in the future. The research shows that age plays a significant role in the desire to become an entrepreneur. Specifically, 52 percent of workers in their 20s have their eyes set on owning a business one day, whereas 50 percent of workers in their 30s and 35 percent of workers in their 40s have the same aspirations.
As an entrepreneur who is active on social media, I've been smirking a lot over the wonderful comments that I get on Instagram from folks who comment under my pictures that I could make $431.87 while I sleep or that they can easily show me how to make millions. I admit that I enjoy deleting those.  A bit of a confession here.  So, while I started my business in 2003, it took me 9 years to get my act together to make it full-time.  I was still working in a full-time corporate career in corporate strategy, marketing and sustainability planning.  I ran my business on the side for many years.  I tried different types of businesses during that time.  I bought into trying to set up a "4-hour work week" and "making money while I sleep" business.  I purchased many blueprints, systems and group programs.  I was plagued by trying to "find my life purpose" and "how to weave in all my passions".
Then a major life event shook me so deeply that I got my act together and followed my hero Richard Branson's advice "screw it – just do it".  Has it been easy?  Absolutely not.  Entrepreneurship does require resilience, discipline and hard work.  And it's been the best thing I've ever done.  Sometimes business is all about following the breadcrumbs.  Now?  I don't worry about my life purpose.  It's just about living fully, serving with my gifts and working hard doing what matters to me.  I could care less about earning a $1 million so I can retire early.  My work holds lots of meaning for me.  There isn't any blueprint or system that can teach you that.  You have to find it within.
One of the biggest lessons I also learned is that I had to take action on what came up – no matter what. Even if it wasn't perfect, it showed me a way forward. If you're seriously contemplating becoming an entrepreneur and making things happen, I recommend that you look at the free or minimal charge resources offered by the Small Business Administration or your State's Small Business Development Centers. A lot of people, especially women, tell me that they just don't know where to start. That's why these two resources are great places to figure out what steps to take for a start-up.
The links are:
They will help you figure out how to start right. And remember – the critical ingredient is getting off your butt and doing something.
If you like this post, please share it with your social community and take a second to sign-up for updates to receive them straight to your inbox.
Save
Save
Save
Please follow and like us: